Rothwell Figg Client Equator Pure Nature Receives Thailand's IP Champion 2023 Award Recognizing Eco-Friendly Patented Pineapple Fermentation Technology
Rothwell Figg's client Equator Pure Nature Co., Ltd. (EPN), the producer of PiPPER STANDARD® eco-friendly and natural household and personal care products made from patented pineapple fermentation technology, was awarded the prestigious "IP Champion 2023" award from the Department of Intellectual Property, Ministry of Commerce of Thailand. The award, recognizing innovative and sustainable business leaders, was presented by the Director General of Department of Intellectual Property of the Ministry of Thailand to EPN's Chairman and co-CEO, Peter Wainman, and co-CEO and Managing Director, Sirilak Narongtanupone.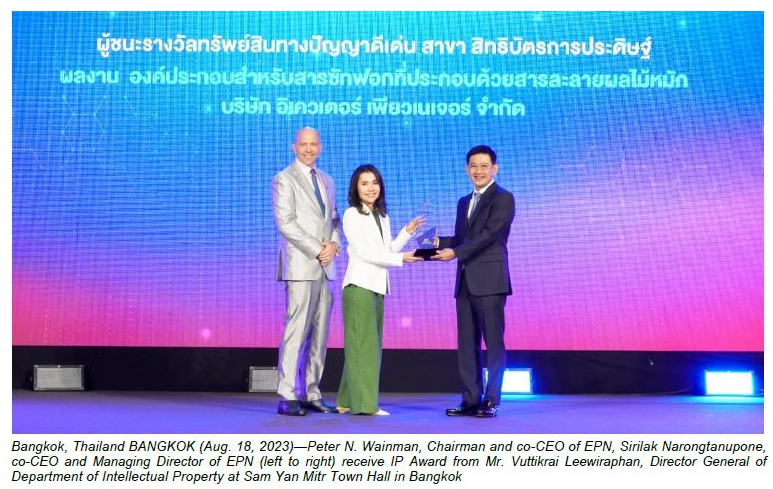 For more than ten years, Rothwell Figg has served as EPN's intellectual property counsel, working to protect the company's distinctive pineapple fermentation process that produces enzymes and biosurfactants used in the PiPPER STANDARD products, such as laundry detergents, dishwashing liquids, bathroom cleaners, and hand soaps. The unique technology yields products that are natural, hypoallergenic, and effective, and reduces the use of chemicals that are thought to contribute to the rise in allergies and asthma worldwide. Led by Rothwell Figg's Martin Zoltick ("Marty") and Brett Postal, patents have been issued in the United States, Europe, China, India, and Thailand, among others.
"Having worked with Peter and Equator Pure Nature on their intellectual property since the company's inception, I've always believed in them and their innovation. I'm proud of their commitment to the environment and chemical-free cleaning products, and I'm thrilled their technology is being recognized through this prestigious award," stated Marty, who acts as EPN's intellectual property strategic advisor.
"I'm proud to represent a company that is recognized for being a leader in sustainability, and we will continue to protect EPN's clean technology across the globe," said Brett.
"This is the biggest government award we've ever received," stated Mr. Peter Wainman. "It demonstrates not only our robust intellectual property, including cleaning technology that's patented in major markets around the world, but also our genuine commitment to creating value-added products that are biodegradable and environment-friendly."
To learn more about EPN and their award-winning PiPPER STANDARD products, and to read their press release on the award, please visit the Equator Pure Nature website.
Related Areas of Practice
Related Areas of Practice
Technologies
Global Capabilities