Partner Jeffrey Lindenbaum received an Outstanding Professional Support Award at the CAREERS Support Solutions' 32nd Anniversary Celebration. The annual gala highlighted the not-for-profit organization's clients, employers, and supporters for their dedication to the program throughout the year. Jeffrey was honored to be recognized for the pro bono work that he does for such a meaningful organization that has helped more than 2,700 individuals with disabilities achieve the satisfaction of sustained, gainful employment.
Jeffrey proudly received the award from CAREERS client James McDougal.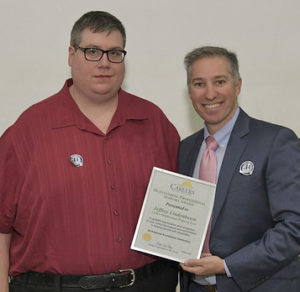 CAREERS is a not-for-profit organization whose fundamental goal is to help individuals with disabilities in Westchester, Putnam and Dutchess Counties, New York achieve the satisfaction of sustained, gainful employment at no cost to them, their families, or employers. Since 1987, CAREERS has been successfully helping people with learning, developmental, psychiatric, and/or physical disabilities find and keep jobs. To learn more, please visit the CAREERS website.